Black & White Are Not Colors
October 11th 2011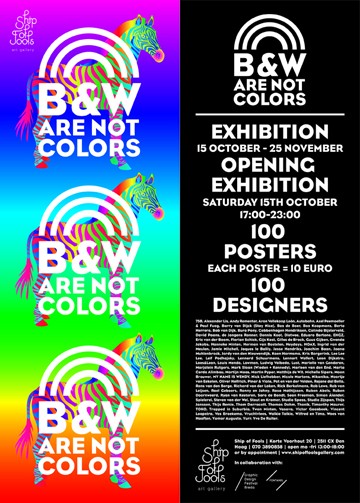 We will participate in the exhibition 'Black & White Are Not Colors', a charitable event hosted by the major Dutch online design magazine Fontanel, Graphic Design Festival Breda and design studio Trapped in Suburbia.
About a hundred designers and design studios were invited to create a poster for this exhibition that celebrates 'the power of the poster'. As a general theme, all posters revolve around contrasts with a maximum of two colours allowed on each poster – the cliché black and white had to be avoided, in fact the use of any of these non-colours was forbidden. The result, a colourful mix of work by established and up and coming designers, can be seen in The Hague.
For our poster we collaborated with the artist Ferry Bertholet. You can see our poster (plus posters from Thonik, Hoax, Urform, Joachim Baan and many more) in the Ship of Fools Gallery from October 7th till December 2nd, 2011.
Ship of Fools
Korte Voorhout 20
2511 CX Den Haag
---