Found by James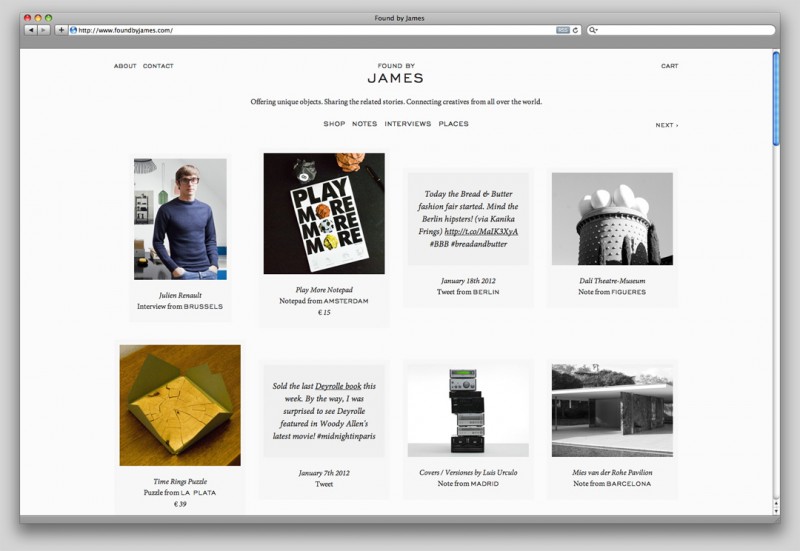 Webshop / Online gallery
Design / Distribution / PR
2010 - 2012
In close cooperation with online curator and world traveller James we founded the art & design platform Found By James. This website consists of an online gallery / webshop combined with stories and updates from the design world and interviews with leading creatives & up-and-coming talents from all over the globe. In this platform Inclusief acts as a co-owner and takes care of design, distribution and PR.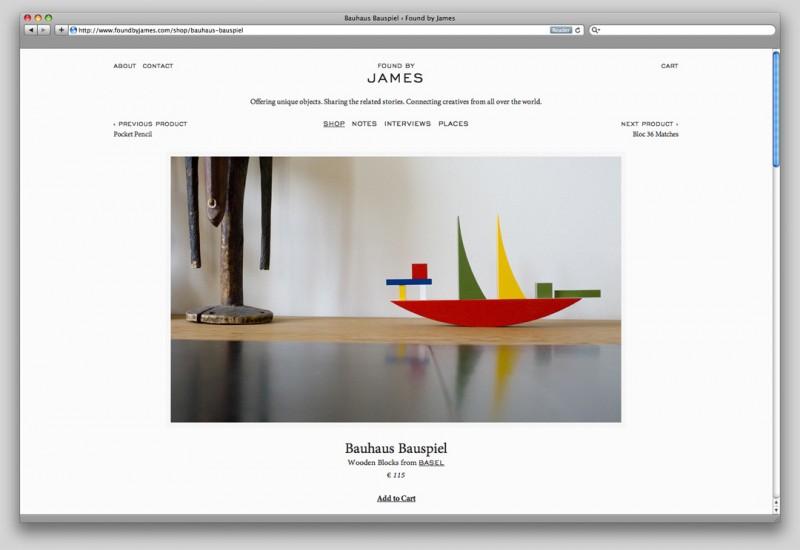 Having done research online and offline, we realised we were missing exciting aspects regarding shopping on the internet. Offline stores and brands offer more and more added value to the products they sell. Shopping becomes an experience: in a market swamped with ready-made mass products, an increasing number of boutiques sell unique products whilst displaying them thematically, providing background stories and guaranteeing a handpicked acquirement. Analyzing this, we realised that a similar experience is hard to be found online.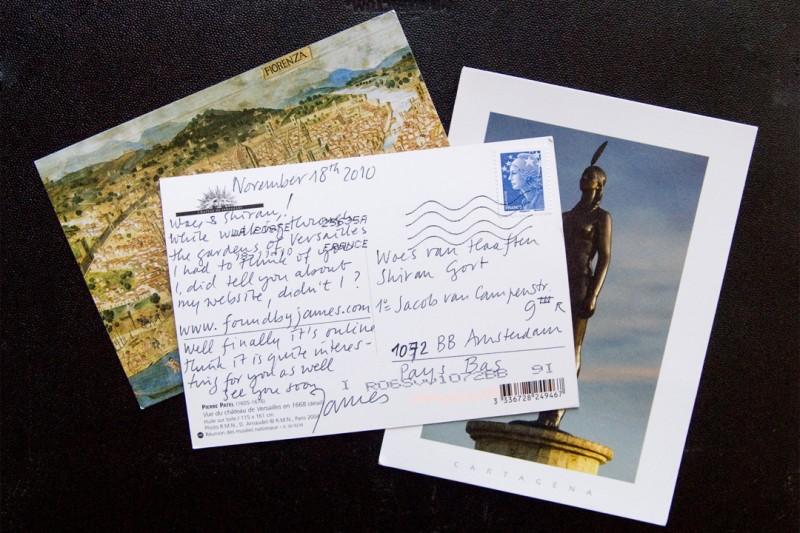 During art & design fairs we regularly came across an affable gentleman, James, a frequent traveller who became a close friend. He started sending us souvenirs and notes from all over the world. We thought that that was exactly what we were missing regarding online shopping; a certain romance and personal exclusivity which led us to a different world. In 2010 we joined forces and started FOUNDBYJAMES.com.

Together with James we decided to further develop his activities into a platform for art & design lovers in which James with his exceptional taste fulfils the role of curator and treasure finder. We were able to support him by building an aesthetically attractive online framework. The stories, updates and interviews serve as an extra, boosting the online shopping experience. James personal approach and accompanying storytelling create a certain world in which the context is as exciting as the products and projects are. It abandons the concept of mass production, unknown makers and tasteless online shopping environments relying on simple 'buy-buttons'.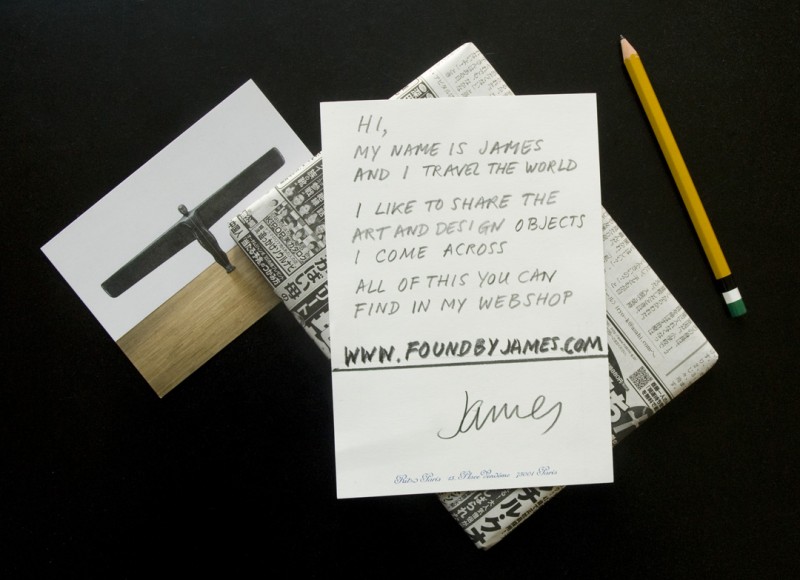 Once bought by a visitor of the website, James sends his limited edition products personally wrapped in foreign papers accompanied by a note. Through this value is added for the online buyer while staying close to James' personality and approach. If needed Inclusief assists with the distribution.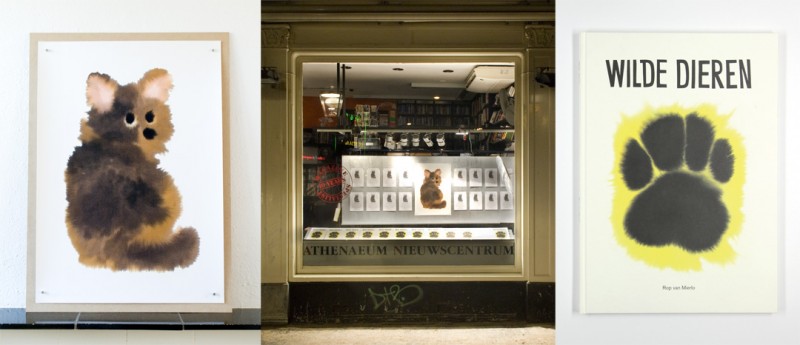 Furthermore, we regularly develop customised communication and PR strategies making Found by James and the products more visible amongst design lovers. The recent collaboration of Dutch Design Award winner Rop van Mierlo with Found by James, is an interesting example. Regarding this Housecat project, we chose for a diverse set of marketing tools ranging from a guerrilla action with intriguing posters around town ('Housecat Found by James'), a cooperation with two high-end bookstores exposing the print, and sending letters and press releases to influentials and press in participation with James. Our campaign turned out to be effective and the posters were sold out within a week.
FOUNDBYJAMES.com has raised positive media attention in its first year. James' taste is praised online by SAY Media as a top 10 influential voice regarding design, defining James as a treasure finder and the platform as a true gem. Furthermore, Swiss Miss, a prominent design blogger from New York, is frequently quoting Found by James' articles and findings, as are other international blogs. Last year, the website was also covered by a Dutch newspaper and Esquire magazine.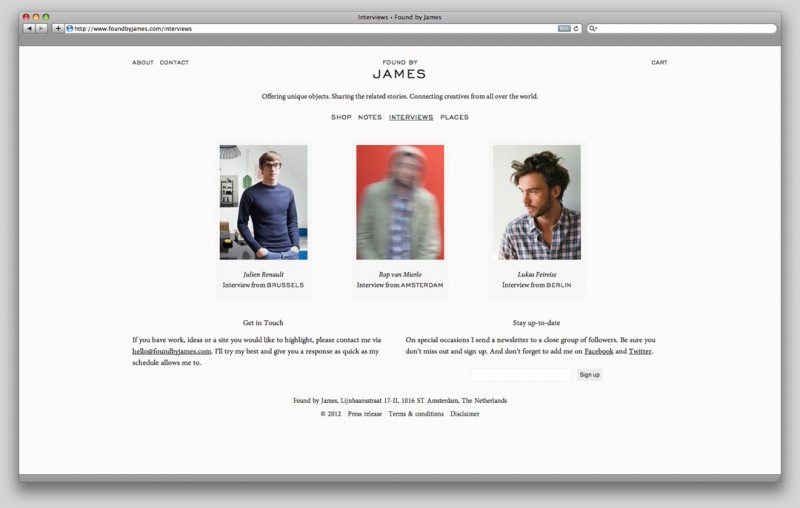 We are proud to say that Found By James is a fast growing platform existing by the grace of a vast network of buyers, bloggers, creators and artists. Consequently, this brings Inclusief in contact with influential people and ensures a solid connection with the international creative scene. Besides communication design, it enables us to support innovation within cultural projects. This makes FOUNDBYJAMES.com an important case for Inclusief.
Recently the website was completely revised by Inclusief bringing the platform to a next level.
---